FRIDTJOF NANSEN | Expedition diary Greenland May 20. 1888 – August 14. 1888.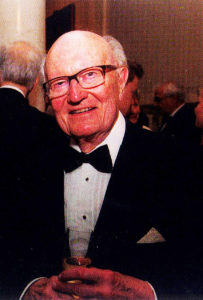 Otto Realf Norland was born in 1930 in Oslo. In 1950 he entered NHH (The Commercial University) in Bergen and obtained the university degree in 1953. Already same year he came to Hambros Bank in London as a trainee. After completing London's Institute of Bankers in just over two years, setting a record in the City, he advanced rapidly to become successively Director, Managing Director and Partner in Hambros. An incredible career in the international financial service. In 2021 his book «The Magic of Merchant Banking – My Years in the City of London» was published in Oslo.
Norland's profound passion for Polar exploration, both in the Antarctic and the Arctic, started already in 1938 at the age of eight. From his grandmother he got a nice copy of Fridtjof Nansen's «Farthest North». For a period Otto's father Realph Norland had worked for Nansen and shortly before the Polar hero died in 1930, Otto had been sitting on Nansen's knee during a visit to their home. In 2022 very few people can claim they met Fridtjof Nansen! In 1982 Norland was made a fellow of The Royal Geographic Society by Lord Shackleton. In 1992 at age 62 he was himself given the opportunity to attend an Expedition to the North Pole.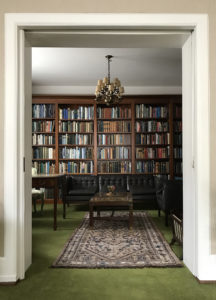 The Polar Library of Otto R. Norland consists of c. 3000 objects, including books, polar postage stamps & letters, manuscripts and letters by Fridtjof Nansen, Roald Amundsen, Robert Falcon Scott, Ernest Shackleton and others. His material has been acquired from many corners of the world. For obvious reasons several antiquarian bookdealers have until present day Norland as their favourite and preferred Polar collector. Always a gentleman in business. He has been admired for his deep knowledge, strong passion and a strategy on how to create an important collection. As a result his library on none hand include legendary books like Jens Munk's «Navigatio Septentrionalis» 1623, Ernest Shackleton «The Heart of the Antarctic» 1909, one of 300 copies in vellum, signed by the expedition's participants, «The South Polar Times» in mint contition, and others. On the other hand the collection also include more general history and textbooks on expolaration of the Polar regions. Until November 2021, Norland's Polar Collection was housed in an elegant library room in his appartment at fashionable Frogner in Oslo.
It is not by coincidence Otto Norland's Polar Library now is coming up for auction sale in Oslo. Collecting Polar related books and manuscripts has been a central part of Norland's life. Through the sale he wants to share his passion for Polar explorations by creating a special opportunity for collectors and institutions to acquire rare, important and exciting Polar books and manuscripts.
Otto Norland at age 92 is today the oldest among the 33 members of the Norwegian Bibliophile Club. On March 15th, 18 days before the Norland Sale, «Bibliofilklubben» is celebrating its 100 years Anniversary.
A peek into the shelves.

«The South Pole. An account of the Norwegian antarctic Expedition in the "Fram" 1910-1912.»
LONDON, 1913.
Deluxe Edition in Presentation Bindings. INSCRIBED Amundsen.

ERNEST SHACKLETON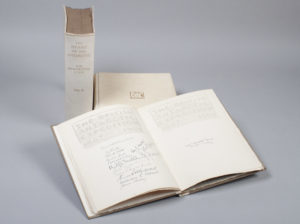 «The heart of the Antarctic.» London, 1909.
PROVENANCE: Book plate of Sir Philip Lee Brocklehurst, member of the Nimrod Expedition. No. 169/300 copies.
«The Antarctic book.» London, 1909.

SIGNED by all 16 members of the shore party of Ernest Shackleton's Nimrod Expedition.     A fine set.
RUDOLFF CAPEL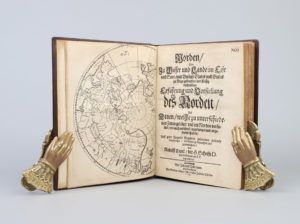 «Norden / Oder zu Wasser und Lande im Eise und Snee.»
Hamburg, 1678.
BOUND WITH
Moxon «Ein kurzer Discours von Der Schiff-Fahrt bey dem Nord-Pol nach Japan/China.»
A fine copy.

GERALD S. DOORLY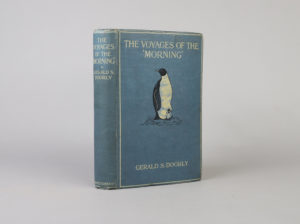 «The voyages of the "Morning".»
London, 1916.
WITH: 
«The Songs of the "Morning".»
LARS DALAGER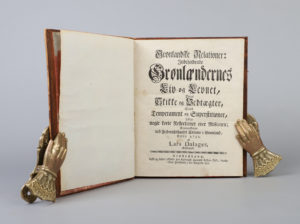 «Grønlandske Relationer: Indeholdende Grønlændernes Liv og Levnet […].»

Copenhagen, 1752.
An attractive copy of of one of the most rare books on Greenland.
LOUIS BERNACCHI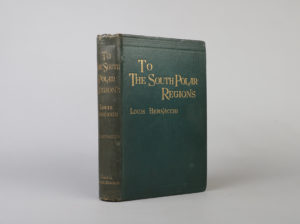 «To the South Polar Regions. Expedition of 1898-1900.»
London, 1901.
INSCRIBED by Bernacchi.

FRIDTJOF NANSEN [F. G. Jackson]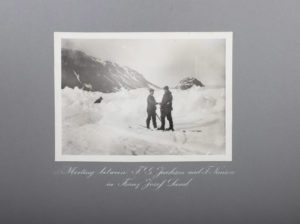 Franz Josef Land, 1896, photo album.
6 thick paper boards with mounted photographs.
Photos stamped "F. G. Jackson" on verso.
JENS MUNK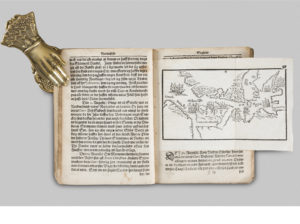 «Navigatio, Septentrionalis.» 1624.
Expedition to the Nortwest Passage.
Of utmost rarity.