UP FOR AUCTION | OCTOBER 22 – 2022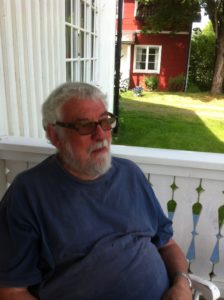 Colin Freebrey was born in London in 1939. He was educated at Durham University from about 1957-1961. He got an honours degree in French, with German subsidiary. His dissertation for this degree was based on the work of the French landscape painter, Claude Lorrain.
In 1977 he moved to Norway with his fiancée Elisabeth. This was when he started building up a serious collection of books on antiques. After a BA degree in art history at the University of Oslo, he started work on his masters degree. The subject of this was the life and work in London of a Norwegian goldsmith. He then got a job in industry as a data processing manager. He retired and moved to Sweden with his wife in 2007.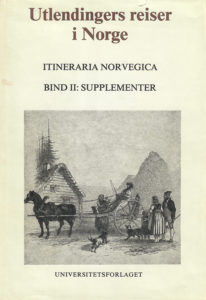 Up until the late 90's Colin Freebrey had been collecting books within the fields of the history of art, archaeology and antiques. A Norwegian rare book dealer suggested that he should consider Norvegica as a new field to explore for his book collection, suggesting that this would go well with his interest in antics and British culture. These books were written by his compatriot Englishmen or other foreigners and contained many of their reactions to the Norwegian way of life etc before 1900.
He started off acquiring the two editions of Schiötz bibliographies "Itineraria Norvegica. Foreigners' Travels in Norway until 1900. A bibliography." (1970/1986).
The first Norvegica books he bought he found in Oslo antiquarian bookshops, and later in London. To start with all the books were of voyages before 1900 (in other words completely in line with Schiøtz's scope). Later he changed this to books covering journeys up to and including The First World War.
He decided that his collection would not include any of the large and expensive plate books about Norway, nor any books on polar exploration or the whaling industry. But perhaps influenced by the many editions of  Lamartinier's voyages, he soon decided to include books about voyages to Spitsbergen, Novaya Zembla and other similar areas north of Norway.
In organizing his new collection Freebrey based his catalogue on Schiøtz' organization of his bibliography. In addition all his descriptions include details on the books' condition, a decision which Sagen & Delås | Auctions have applauded and included in the work with the cataloguing of the collection.
Being there when many rare book dealers started moving their business to the internet, Freebrey has had an advantage on Eiler Schiötz in regards to aquiring books and information on rarity of titles produced outside of Norway.  Those who will buy books at the auction will get an insight into this extensive work, by reading the register notes / descriptions inserted into each book and pamphlet in the collection.