UP FOR AUCTION | JUNE 17 – 2023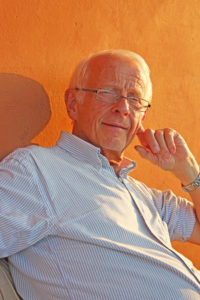 Niels Nielssøn Danbolt (Oslo 1933 – 2022)
As owners of Antikvariat Bryggen in Skjeberg and Galleri Bygøy Allé-PAMA AS in Oslo, Fredrik Delås and Pål Sagen are sharing a passion for not only old books and prints but also for some of our highly valid clients. Niels Danbolt was one of those. Pål learned to know him already from early 1990's and Fredrik shortly after he set up his rare book business in 2007.
Niels was much more than a «regular» client the way he responded to our different businesses or cultural activitities. He must have participated in almost all cultural events or sales exhibitions Pål organized between 1992 and 2018. He even came to Koppang in his own car for a day trip when Norsk Kultursenter was launched in 2017! Nils was a «complete» cultural person. He had a wide knowledge in art and books but he also had a deep understanding of the long lines in the history. Norway and Norwegian traditions were the core for him but always also influenced by his deep international perspective. His education as dentist in Edinburgh made him proud and contributed to create «the Nils» we all knew. This is seen through the international material in the auction.
Niels Danbolt was a Bibliophile. His passion for rare books and prints was far beyond most people will say «is normal». Almost every Saturday through many years he spent hours in different antiquarian shops in Oslo. Always keen to speak with us and use the opportunity to look through the shelves. We all learned that it was not a bad idea at all to show him some of the latest and best «new-commers» among our treasures. Before you knew he bought it!
When Niels Danbolt's Library now is coming up for sale in Oslo it will be among the relatively few single-owner sales of books and prints organized in Norway. It will take place together with a selective section of fine and rare books from other properties. These two parts are complementing each other and hopefully make June 17th, 2023 to a remembered event in the history ofrare books in Norway.
We wish you all welcome to the preview and the auction.
Fredrik Delås & Pål Sagen in SD-Auctions